Archival 1862 Property Title Register
About the Client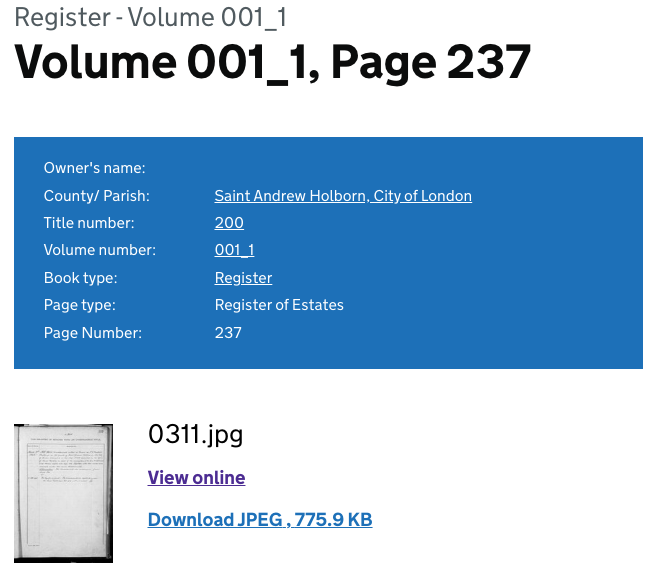 Land Registry is the definitive source of information for more than 23 million property titles in England and Wales. Since 1862 they have provided security and confidence in one of the most active property and mortgage markets in the world. They are working to support economic growth and data transparency as part of the Public Data Group. Find out more at www.landregistry.gov.uk
The Challenges
The Land Registry Act of 1862 was the first attempt to create a register of title and, together with the Land Registration Act of 2002, these registers are now being digitised and released as open data licensed under the existing Open Government License.
This is an urgent requirement and a provider was sought who was registered on G-Cloud, had the technical expertise to design and implement a solution as well as to meet the aggressive timescales required by the project.
It was critical that a fully managed and supported solution deliver a GOV.UK branded, efficient database with flexible search for both text and image. The data had to be hosted to at least 'Business Impact Level 2' within the UK with suitable arrangements made for business continuity and disaster recovery that include geographic redundancy.
The solution needs to provide access to the scanned image files and be both citizen and internally facing for Land Registry staff. The solution must safely and securely digitally archive 84,000 Jpeg files at 200DPI and must be made available for content of the entire collection.
The Solution
Our solution recognised that this project is about making a large amount of data in both text and image form available to search as efficiently as possible. Our solution complied with all the mandatory requirements laid out by Land Registry in the requirements document. In addition, full text index search in PretaGov is not case sensitive and supports various search operations including wildcard search and the use of <AND>, <OR> and <NOT> logical operators. Image searches return a full list of images identifiable by volume, page type, page number and image number. Selection for the user is made easier by also supplying a thumb-nail of the image. Image view will return the scaled image with a list of relevant metadata. Clicking on the image will open, full-size, in a new window. All images will be rotated as appropriate and presented in colour (if originally scanned in colour).
PretaGov UK delivered to Land Registry a best fit web solution built on top of a leading open source enterprise grade content management system, Plone. The solution leverages Plone's out of the box workflow, reporting, form editing, visual editing, top to bottom integration, security features and hundreds of Web 2.0 plug-ins. It also provides a fully featured system at a lower total cost of ownership than proprietary or vendor open source solutions.
We used an 'out of the box' website template which had already been customised to accommodate GOV.UK corporate branding. This provides the level of consistency and professionalism required without the need to develop a fully bespoke design. This approach kept the cost down and allowed PretaGov to be confident of the delivery timeframe.
We are confident that this solution will 'future proof' the service in terms of the ease of scalability and of adding functionality.
Hosting, Support and Maintenance
The system is fully supported and maintained under the PretaGov UK comprehensive hosting, support and maintenance contract.
Tier 3 Government Accredited Hosting
PretaGov UK CMS Cloud Platform is hosted by Memset offering  data centres located in Reading and Dunsfold. Their head office is located in Surrey Research Park, Guildford GU2 7YD, UK. They are also an approved supplier to the G-Cloud Store. Memset guarantee an uptime of 99.995% with complete network redundancy. PretaGov UK fully manages the Hoster for the client. All data centres are located in the UK to comply with data sovereignty and data protection laws. Memset is certified to ISO 27001 and with IL2 Pan-Government Accreditation.
Every PretaGov UK site (including this project for the Land Registry) runs on the PretaGov UK infrastructure. This results in higher up-time and fault tolerance than stand alone hosting environments. Should a failure occur requests are instantly re-routed to alternate nodes in our infrastructure.
Data replication ensures all nodes are capable of serving the site. No intervention is required to ensure this occurs.
Multiple upstream network providers ensure a single network pipe failure will not affect the operation of the site.
Major Outcomes
On-time, on-budget delivery of a fully-supported service that met or exceeded the requirements of Land Registry. Hosting, publishing and providing a highly flexible and effective digital service to access and search the the 1862 Land Registry Act Registers. Provision of this service by deploying open source software using open standards to deliver a cloud-based, Software as a Service (SaaS) solution that is compatible with Government strategy to deliver 'Digital by Default' solutions, sourced from the G-Cloud.
Client Viewpoint
Len Craig, Senior Software Designer at Land Registry - and responsible for assessing the technical aspects of the bids - said: "We were impressed by PretaGov's comprehensive understanding of the technicalities of the requirements and by their confidence in being able to deliver to an extremely tight deadline ".
Visit the site at:  http://digitalarchives.landregistry.gov.uk/1862/search